HEAVY BONDAGE Art Book I
A downloadable Bondage Art Book
Get this Bondage Art Book and 1 more for $23.02 USD
View bundle

9 ILLUSTRATIONS 9 STORIES 36 PAGES
A deep dive into the fetish world of human pet girls, appliances, experiments, and punishments!
---
BODYMOD HUMAN-FURNITURE PET-PLAY
SERIOUS-BDSM LEZDOM & FEMDOM
SLAVERY
---
---
01 PET GIRL #14
[male slave, castration, foot worship, footstool, quad amp, peg-legs, femdom]
02 HER LITTLE BITCH
[dog girl, amp, female chastity, pussy slave, transformed, lezdom]
03 PETS AT THE VET
(01+02 merged)

04 RUBBER THING
[heavy rubber, imprisoned, encased, sensory deprivation, steel-muzzle, forced enemas]
05 FINE WINE CONVEYOR LINE
[human wine barrels, gigantic breasts, inflation, amputation, nipple-valves, human furniture (forniphilia]
06 P FOR PONY (GIRL)
[rubber-encased, punished big breast, ponytail, whipped, real hooves, harness, bridled slave]
07 GOOD WIFE RETURNED
[humiliation slave, grotesque, huge tits, slut, cocksucker, dildo trolley (dildo-on-wheels), steel ballet heels, cane, stern mistress in leather; double-story: husband turned into wife (after sexual reassignment surgery)]
08 THE SLAVE BOX
[punishment box, caged, slavery, imprisoned, breast torture, steel mask, sexy guard in latex uniform, pissed on, urination, cattle-prod, forniphilia (objectification), deep-throat, non-consensual]
09 EXPERIMENT #3804
[medical fetish, lobotomy, no arms, chained and caged, amp, human experimentation, milking, catheter, enema bag, heavy chastity belt, female orgasm denial, serious steel bondage, welded restraints]
10 DAILY FRESH MILK (FACTORY)
[human cows, huge milk udders, multiple slave girls, forced orgasms, limbless, quad amp, boxed slave, elongated nipples, forced milking, bald females, robot, force-feeding, game over, end of the line]
EXTRA - Story bonuses (3 extra pages)

ADDENDUM - Making-of & behind the scenes

BONUS - uncropped, borderless, and high-res Versions of the used images (9x)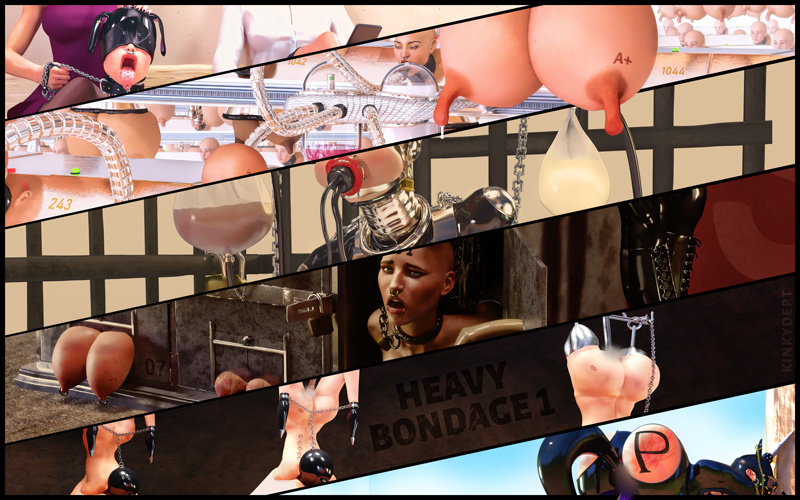 ---
STORIES
The Stories are lightly based on the Planet XX series — with gynoids, strict hierarchies, and a pitiful slave caste.
Sometimes they're written from the submissive point-of-view, sometimes from the sadistic.
Male slaves appear in two stories and they were both turned into women (forced-feminization). The other seven stories are about women being dominated by women (lesbian bondage & domination).
---
PURCHASE & FILE CONTENT
After your purchase, you can directly download it here in the shop.
The ZIP-file contains:
PDF (97mb)
IMAGE Folder — 36 Pages as JPG in 2700x3500px.
BONUS Folder — the 9 major illustrations in high-res, uncropped, and without text (3000 to 5000px).
Specs: 268mb ZIP-file, 53 total pages.

JPG vs PDF
The pages in the IMAGE Folder are identical in content to the PDF but of higher resolution. Whereas the PDF is there for convenient reading. You don't even have to 'extract' the pages from the PDF as JPGs—I've already done that for you—and even better: they're the source files used to create the PDF.


Mobile
The A4 format (like any typical comic page) is not exactly ideal for mobile phones, while tablets on the other hand are perfectly fine.


Comments & Feedback
If you've any questions, just ask in the comments here, and I shall answer.

Feedback—after you've read it—is best posted to DeviantArt, my Reddit, Pixiv, or Twitter (on the Cover-Page post) as these are a bit more interactive and a better place to collect your reviews, thanks, notes, and further story-questions. Also, I'm getting comparatively little feedback—except in sales, and views (not that I'm complainin')—but a small comment or message is always welcome about which part you liked most. :)

ENJOY!
Purchase
Get this Bondage Art Book and 1 more for $23.02 USD
View bundle
In order to download this Bondage Art Book you must purchase it at or above the minimum price of $14.20 USD. You will get access to the following files:
Kinkydept--HEAVY-BONDAGE-Art-Book-1.zip
268 MB