Slave Unit
A downloadable illustrated BDSM Story
Get this illustrated BDSM Story and 11 more for $83.60 USD
View bundle
Have you
ever enslaved yourself?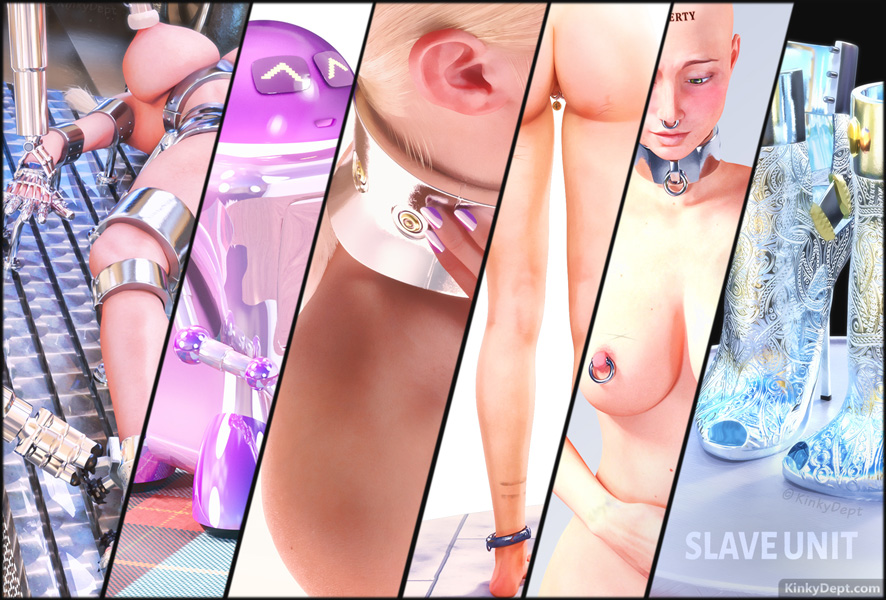 An illustrated BDSM Story - as PDF
Part of the Planet XX Series
Summary
Bree, a freedwoman on Planet XX, bought herself an old automated enslavement chamber to realize her submissive dreams. If she can repair it, she'll have full control over its ancient programs.

How far is she willing to go with her submissive tendencies, which programs will she pick, and will she commit to a full month of self-enslavement?

Born as a man, she always tried to fit-in in this matriarchal society. But now that she has completed her surgery, she has fully become a woman and doesn't have to hide her little secret any longer.
Meanwhile, she tries to live a normal kinky life on this female-dominated planet. Though, her (childhood) girlfriend isn't very fond of it and has slavish problems of her own. Their relationship deepens as she's going on her journey, while her bratty (female) friend from work becomes more supportive and grows closer...
---
Chapter 1 to 10 gives a glimpse in the world of Planet XX, into the kinky life of Bree, and her everyday-life with her friends as she's starting her deviant journey. Living in an SM society has its challenges, and only when her BDSM relationship is sufficiently explored, will the intensity go up a few notches from Chapter 11 onward!

The full first Chapter (about her first test-run on the machine) can be read on my homepage.

______________________________________

HEAVY-BONDAGE LESBIAN
MACHINE-SEX STEEL-BONDAGE FEMALE-CHASTITY PET-PLAY BDSM-RELATIONSHIP ENSLAVEMENT PUSSY-TEASE & DENIAL BALD-SLAVE SCI-FI M-to-F SUBMISSIVE-POV MAID-SERVANT HUMILIATION BODYMOD BALLET-HEELS STEEL-CORSET
AUTOMATED-DUNGEON
______________________________________
STORY
20 Chapters
13 hours of reading
200.000 words
570 pages
large + easy-to-read font

ARTWORK
16 Large + 11 small illustrations
47mb zip file
PURCHASE & FILE CONTENT
After your purchase, you can directly download it here in the shop.
The ZIP file contains:

PDF file with dark background (DRM-free)

Image folder with 41 extracted images
______________________________________
NOTES
Update v1.01
Contains minor grammar fixes and improvements for the first half of the story (after casually rereading it post-release).

What do I mean with 'Heavy BDSM' or 'Heavy Bondage'?
Tight, serious bondage—nothing light—but also not necessarily brutal. Think of Benson's artwork, or heavy steel bondage and inescapable stuff. This tag is really bondage-focused and tries to go tight, restrictive, and inescapable. (Other tags will describe the other content more in detail, like punishment, humiliation etc.)

Keep in mind that the main protagonist was born as a man and is now a (lesbian) woman—if that's not your flavor.

Also, the illustrations are complementary to the scenes in the story, and the action happens mostly in written form.
In order to deepen the submissive point-of-view, the main protagonist's face is never shown—only up to her nose ring. :p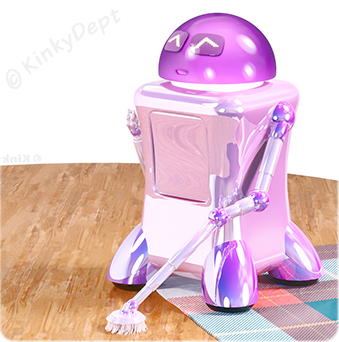 ______________________________________
SPOILERS BELOW
Full tag list | Chapter names | Plot details
It's a lesbian setting with lesbian sex—Ok—mostly kinky sex. There are no other men in the story—typical Planet XX stuff really. Below, I'll provide you with a lot of detailed information to make a better informed decision. ;)

The story's severity ranges from:

an amputated dog girl who had her pussy removed (not protagonist).
an incident with the machine, mid-story, with accidental hair-removal (permanent), piercings, and being stuck in a severe enslavement program for 4 weeks.
a sexual assault in public by three young mistresses (fingering, whipping).
What happens when? (--more SPOILERS--)
The story is mostly consensual and voluntary (though there are a few con-nonconsent and nonconsent moments).

In the beginning, Bree, the main protagonist just had her reassignment surgery done a few weeks ago (hefty breast enlargement, penis removal), but had already been castrated as a baby (due to the law) and had a female puberty (except for her little penis). But the first half is more about getting to know Bree, her unusual lesbian relationship with a real slave girl, and about having fun with her new body and machine.


At first, Bree only plays around with her new enslavement chamber (a fully functional automated dungeon) that's just adjacent to her living room and where her life as a freedwoman happens in contrast.
The first program she picks, after having a real slave collar consensually fused around her neck, is from the Steelmaid level 1 program. She locks some steep 5 1/2 inch steel heels from the maid program on her feet for a whole week. The program includes a daily dose of 2 hours of walking and forced orgasms—if she wants to or not (but she has agreed to it in advance); still very mild, considering.

In Ch.11, her slave girlfriend brings a dog girl home from work (permanent bodymod) and Bree loves to play with her all weekend (cunnilingus etc).

At Ch.12, she finally finds the convictions to start her one month of self-enslavement. She picks different slave menus for each day and feels quite confident on Sunday evening (after her girlfriend had to leave again for work).

At Ch.13, Masochistic Monday, she's severely whipped and locked in a tiny box for hours; she has to impale herself on a thick steel pole standing in the middle of the room, lick up various fluids, but generally loves it, once its over at night—all considering.
On her Tuesday, Ch.14, things are turning non-consensual. Her lvl-1 Steelmaid program turns out to be lvl-5, and the fused collar forces her on the table. She receives a steel corset, ballet heels, neck brace, piercings, chastity belt, and permanently looses her hair; she looks now like a real slave girl.

At Ch 15—24 hours later—her Humiliation Wednesday starts, and she can exchange her Steelmaid uniform against restrictive chains (nipple, wrist, ankle chains. Though, her chastity belt stays on for the whole four weeks). Her lactation has already started due to her collar hormones (besides her constant horniness). She's only receiving anal orgasms from her machine which aren't feeling satisfying at all. Her female friend takes her shopping, because with guests in her apartment she's not allowed to say 'No', or else receive a nasty shock from her chastity belt (where it really hurts).

Thursday, Ch.16, is her day as dog girl, though bald and chaste, she's enjoying her ordeal. As its part of the program, she even had to ask her friend to take her out for her walkie. More conditioning, dull dog food, cat litter box, and no talking for 24 hours.

Soon, it's Friday again and she's being put back inside her snug Steelmaid shell. Her slave girlfriend comes home at the weekend, sees her for the first time after her Tuesday transformation, but is very supportive. Sat+Sun are just chaste days, besides fun with the girlfriend, and only her bulging breasts need to be regularly milked.

After a full week's cycle ran its course, there's a jump forward in time to her 4th week of self-enslavement and a slow change has set in. Her friend has become more involved (consensually). And bratty as she is, likes to be the dominant. She assists her in her training (as a friend and play-mistress) but also pushes her on. That's when the servicing, public humiliation (as a dog girl and as a naked, bald slave), and foot worshipping starts, with lots of feeding under the table—and a good deal of breast milking...

And that's it. The end is not spoiled here :p - though check the full tag list below.

FULL TAG LIST (spoilers doh!)
F/ff, lezdom, machinedom, chastity belt, slave tattoo, pussy tattoo, big nipples, big boobs, breast milk, milkmaid, enslaved by machine, machine sex, fucking machine, degradation, enslavement machine, kinky machine, sadistic mistress, submissive adventure, sexual conditioning, hormones, aphrodisiac, forced female orgasms, in-public, sensory deprivation, claustrophobic, pissing, floor toilet, voluntary enslavement, steel ballet heels, diapered, adult diapers, nightly bondage, conditioning, hedonism, living together with real slave girl, self-bondage, boxed slave, anal stretching, anal orgasm, anal training, locked buttplug, punished, spanking, nipple-shields, pussy piercings, pussy punishment, long toes, foot worship, pretty feet, fed with toes, tiny tits, petite chest, nymphomaniac, shaved head, bald slave girls, dog girl, amputation, sm dungeon, huge tits, milking, collared girl, slavery, scifi, captivity, submissive woman, submissive POV, submissive journey, kinky adventure, degrading steel outfit, consensual captivity, kinky life, assault fantasy, cloned vagina, deep POV, male-to-female transformation, female nullo, vaginectomy, removed vagina, cliterectomy, chastity play, pussy tease, surgery, sexual reassignment, female supremacy, female world, gynocracy, SM relationship story, erotic SM story, lezdom story, femdom novel, lesbian SM

CHAPTER NAMES
1.OIL CHECK
2.BECOMING ONE HUNDRED PERCENT XX
3.YOU WANNA SEE SOME P U S S Y !?
4.HOME
5.WHAT'S A LESBIAN
6.GIRLFRIEND STUFF
7.GOOD AS NEW
8.PERHAPS IT MAY FIT
9.A BLUE MOON
10.A SLAVE'S WEEKEND
11.OOPSIE DAISY
12.THE THINGS WE'RE WILLING TO DO
13.MASOCHISTIC MONDAY
14.THE MAID COMES ON TUESDAY AND THE MAID COMES ON FRIDAY
15.HUMILIATION WEDNESDAY
16.DON'T BE A BITCH
17.FRIDAY ALREADY?
18. SATURDAY
19. SPECIAL TUESDAY
20. FOR OUR FANTASIES TO COME TRUE
______________________________________
Purchase
Get this illustrated BDSM Story and 11 more for $83.60 USD
View bundle
In order to download this illustrated BDSM Story you must purchase it at or above the minimum price of $14.20 USD. You will get access to the following files:
Slave-Unit by KinkyDept (v1.01).zip
46 MB
Comments
Log in with itch.io to leave a comment.
It won't allow the PDF to open. Any advice?
EDIT: If you still don't get it to work, after having verified your purchase, I can send you the PDF per email, but I'm guessing it might be a software problem on your end?

I've checked it twice, and even re-downloaded it after upload: everything works.

Your PDF filesize should be around 12.7mb after unzipping? Can you open other pdf files?

PDF opens for me on macOS's Preview.app, Foxit PDF PhantomPDF on Windows and on Moon+ Reader on Android. Try to re-download archive.
Why only black-background version? It would be nice to have white-background PDF version or (even-better) white-background EPUB3 version. It's not that layout is too complex and EPUB3 means it 's possible to read on non-10" tablets and change fonts.
They layout should be ideal to comfortably read on PC & tablet. I don't plan on making a phone-friendly EPUB due to all the inline artwork getting messed up. I read EPUBs with images and it would look more like 'Huckleberry Finn'—one big image per page—and it would reduce its overall quality with a simplified layout.

White Background:

If there's more demand for a bright-white background version (for whatever reason) I might consider adding such a perverted edition (other's can comment here). Though, I had never imagined there was a demand for it as I personally very much dislike reading on white-background.