Femdom Bedroom
A downloadable illustrated BDSM Story
Get this illustrated BDSM Story and 11 more for $83.60 USD
View bundle
Kidnapped and dominated,
a slave's CHASTE TORMENT!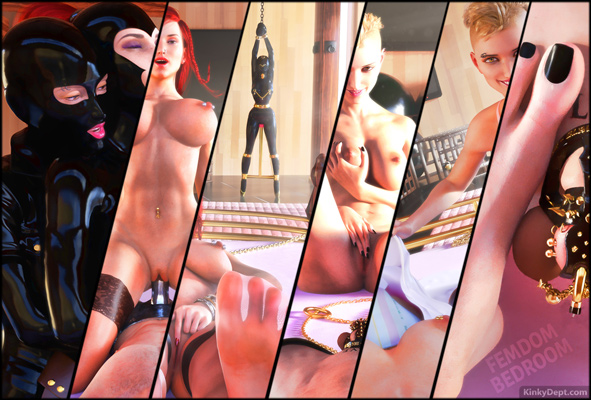 Illustrated BDSM Story - as PDF
Summary
An unsuspecting man gets kidnapped by two wicked sisters. Eva and Mona are on the hunt again and are looking for a new pet: to take it and break it and make it into their own broken little pussy-slave!

Overnight, they keep him chained to their bed as a sex toy, and during the day they keep him locked away in the basement as their sex prisoner. These two perverted sisters begin to gradually break their pet apart over the course of many months and until he is ready to be sold.

The first 9 pages can be test-read on the right side (or top).
GENRE: long-term chastity, pussy worship, anal stretching, foot worship, heavy bondage, male POV, imprisonment, non-con, abused by women.
Time: present
Severity: quad amputation, castration, anilingus, forced anal, human toilet (urine)


ARTWORK
15 HIGH-RES Images

13 POV bondage scenarios + 2 latex pin-ups

they all play in the same bedroom dungeon

Image size up to 3000 x 5000 pixels (h x w)

With additional cropped versions there are 42 images.

92mb ZIP file
STORY
18 Chapters

7 hours of reading

88.000 words (twice as long as 'Slave Nina')

320 pages

large font + dark background = easy reading
MAJOR TAGS
enslaved by women, male chastity, forced feminization, male POV, anti-erection training, dominance and submission, chained and imprisoned, NC (non-cons), pegging (fucked by Mistress), foot fetish & worship, humiliated by women, pussy slave, objectification, rubberdoll, human sex toy
PURCHASE & FILE CONTENT
After you've purchased your copy, you can directly download it here in the shop.
The ZIP file contains:


PDF - with dark background - recommended
PDF - with white background - just in case (identical story)
Folder with 42 extracted high-res images)
______________________________________

SPOILERS BELOW
Full tag list, Chapter names, some plot details
This is a serious enslavement story. It starts with a light tease, but things will become gradually worse for the poor lad. So you might want to read the 'Full Tag List with Spoilers' below, if you're feeling understandably uncertain.

The forced feminization has more of a lesbian touch. The male protagonist is the only man in the story, kind of a safe space, where you don't have to worry about any traps. He only has sex with his Mistresses (well, with his tongue I mean...)
If you like to know something specific about the story, ask me in the comments, and I'll get a notification. You won't be the last to ask specific questions.
FULL TAG LIST (spoilers, sorted by topic):
BONDAGE SCENARIOS
inflatable buttplug, fucking-machine, heavy bondage, pet play, human pet, leashed, kept on a leash, imprisoned, bdsm punishment, kidnapped, abducted, solitary confinement, caged slave, chained to bed, restrained in chains, anal stretching, extreme fisting/stretching, toilet slave, penis gag, dildo-gag, choking, isolation helmet, sensory deprivation bondage, rubberdoll, latexdoll, latex fetish, heavy rubber, ballet-boots, corset laced, human sex-toy pillow, bondage/leather mittens, flogged, collared male, forniphilia, bedroom dungeon

FEMALE DOMINANCE
D/s dominance submission, punished and broken, humiliated and degraded, objectification, 24/7, full time slave, CFNM, facesitting, slave breaking, submissive training, conditioning, brainwashing, pegging, strap-on fucked, raped by woman, fucked into submission by women/mistress, Femdom POV, boy toy, forced cunnilingus, pussy-licking, pussy worship, pussy-humiliation, enslaved by women, hot Mistress, male sub/slave, female masturbation, finger-fucking, female supremacy, matriarchy, goddess, over-obsessed caregiver, helpless man, masochistic sex, painful orgasm, female pleasure, submissive devotion, devoted slave
FEET & WORSHIP
foot fetish, sexy long toes, dirty sole licking, toe sucking, pantyhose, long legs, stockings, foot worship, foot fisting, closeted foot fetishist, sweaty soles, smelly women feet, leather heels, high heel sandals
CHASTITY
dick piercing, spoiled orgasms, orgasm denial, anti-erection device, dick tease, blue balls, anal orgasm, permanent chastity, locked-up cock, forced feminization, slave gets feminized, sex reassignment surgery, male to female transformation, horny predicament
MEDICAL FETISH
castration (no balls), recreational wheelchair bondage, crippled slave, full body brace, drugged, syringe, human toilet, urine fetish, golden shower, forced to drink piss, amputation, quad amputee, quad amp, adult baby, ABDL, diapers, force-feeding, baby bottle, little one, forced enemas, hairless, bald head, mistress amputates arms and legs,
STORY
incest sisters, lesbian incest, sadistic sisters, nymphomaniac, exhibitionism, embarrassed in public by mistress, heavy bondage story, serious femdom fiction, sex story, kinky artwork, bondage fiction, long bondage story, 50 shades sucks, fuck soft-bondage, bondage porn, deviantart story, kinky department, femdom artwork, femdom chastity, long chastity story, best bdsm books, amputation story, femdom slave story,

What happens when? (spoilers)
The beginning might look mild, but it gets progressively worse and sadistic:
Lesbian setting, no other males involved


Early on, its about reconditioning, with chastity, pussy worship, enemas, and being imprisoned and constantly kept in restraints.
Anti-erection feature grows gradually worse, as the younger sister is a nymphomaniac; chained in shower, forced feminization and attempted resistance.
Fight or flight, trying to escape, whipping, flogging, gets raped by Mistresses (strap-on), while chaste; tries to adapt.
Urine force-feeding happens more regularly now.
Latex encasement: thick catsuit, isolation helmet, corset, ballet-boots (Chapter 12+); the other silent rubberdoll is slowly revealed, and what has been done to her over the course of the story.
He keeps his broken dick, but eventually will lose his balls--gains tits instead (win-win?)
Only 'anal orgasms' are allowed, no erections permitted, until he brakes, and begins to beg for more.
Anal-stretching and enema hygiene enforced; always keeps him ready for anal abuse.
Butthole finally ready for Mistress's foot; extreme foot-fisting; now incontinent (Chapter 16)
Partial Castration (Chapter 17) together with quad amputation, and his broken dick remains in a chastity-bracelet.
Total transformation in a woman as a bonus image at the end, after the quad amputation, but not part of the story. Partial castration in the story.
Amputation, wheelchair, AB/DL, and body brace happens late (Chapter 17+18). The new 'she' goes on a trip in the city, and is forced to use a 'special' wheelchair.
Chapter names
1.PLEASURE & DUTY
2.OBEY
3.KEEP IT CLEAN
4.FIGHT OR FLIGHT
5.ANOTHER EVENING
6.A PURE SLAVE
7.MORNING GLORY
8.SEXY FEET
9.GIRLS SHOWER
10.A GENTLE TOUCH
11.FUCK IT, BREAK IT, KEEP IT
12.AS THICK AS RUBBER
13.DARK & TIGHT
14.NIGHTTIME
15.MY BONE
16.WARM INSIDE
17.NAP TIME
18.ONE, TWO, THREE, SOLD!
_______________________________________

Purchase
Get this illustrated BDSM Story and 11 more for $83.60 USD
View bundle
In order to download this illustrated BDSM Story you must purchase it at or above the minimum price of $13.50 USD. You will get access to the following files:
Femdom Bedroom by Kinkydept.zip
90 MB