HEAVY BONDAGE Art Book II
A downloadable Bondage Art Book
Get this Bondage Art Book and 1 more for $23.02 USD
View bundle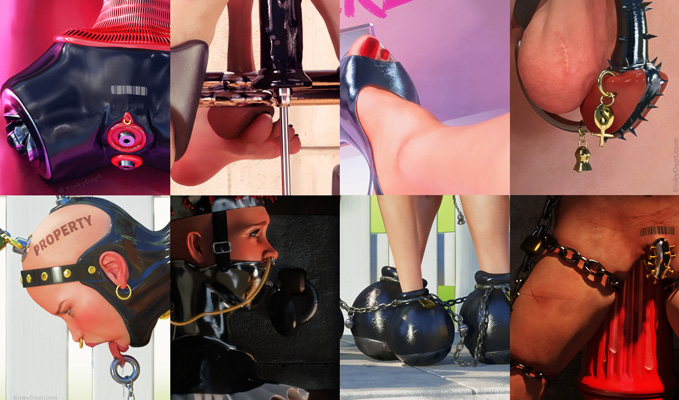 7 STORIES 16 ILLUSTRATIONS 73 PAGES
The second deep-dive into the fetish world of human pet girls, rubber-dolls, objects, and chaste slaves!
---
FEMDOM & LEZDOM MALE CHASTITY
BODYMOD OBJECTIFICATION PET-PLAY
SERIOUS-BDSM SLAVERY F/fm
---
---
SEGMENT 1: MAIL CARRIER - 6 Pages
[Lezdom, pet girls, human mailbag, bald slave, chained, humiliation, public, caned]
---
SEGMENT 2: LEASH GIRL (Part 2 of 'Mail Carrier') - 5 Pages
[dominant slave girl, pissing in public, suburbs]


---
SEGMENT 3: THE QUEENDOM - 16 Pages
[Femdom, male pleasure toy, permanent male chastity, castration]


---
SEGMENT 4: MILKMAID LUCY - 13 Pages
[Lezdom, milk, punishment locker, slave household, pussy spreading, huge dildo, pet girl]

---
SEGMENT 5: MISTRESS' TOY - 4 Pages
[Femdom, pet boy, amputation, chained, leg prosthesis, anal, human pain toy]


---
SEGMENT 6: SQUEEZE - 17 Pages
[Rubber doll, Gynoid caste, ballet boots, corset, pussy-face, sexual conditioning, mind-breaking, quad amputation]


---
SEGMENT 7: THE FRAME - 12 Pages
[Femdom, ballbusting, CBT, feet, chastity, dominating wife, maid, enslaved husband, slave training, anal, caning, ballet boots, full-body restraining frame, branded property]


---
ADDENDUM - Making-Of & behind the scenes - 7 Pages

---
BONUS FOLDER - uncropped, borderless, and free of text. The High-Res versions of the PDF images (5000-7000px)
---
JPG FOLDER - Source images (3500px) used in PDF (higher resolution than PDF)
---
INFORMATION
The sexual orientation is hetero (female on male) and lesbian (female on female).
I'd say, compared to other BDSM 'literature', releases from the KINKYDEPT feature only submissive males, and barely any fucking (unless you count strap-ons and untiring fucking-machines); it's all about the bondage.
The settings are non-consensual slavery, playing in the present and future.
I'm using the same grey drafts again to show more details in between pages. Since I'm working from 3D to 2D, these are my kind of a sketch.
Production time: 3 (very productive) months.
Compared to HEAVY BONDAGE I:

Reading Order - doesn't matter if you read HB1 or HB2 first. Each short-story is stand-alone. Instead, I think what BDSM topic tickles your interests most is more important.
About half the stories are Female Dominance with male subs
Longer and more detailed stories - more reading
37 more pages than Heavy Bondage 1
---
PURCHASE & FILE CONTENT
After your purchase, you can download the ZIP file (426mb) directly here in the shop.
The ZIP-file contains:
PDF (129mb)
JPG Folder (226mb) — 90 total pages as JPG in 2700x3500px
BONUS Folder (70mb) — the 15 major illustrations in high-res, uncropped, and without text (5000 to 7000px).
JPGs vs PDF
The pages in the JPG FOLDER are identical to the PDF but since they are the source images used, are higher in resolution (the PDF file format has its limitations when it comes to image quality).
Reading the PDF has its upsides though. Scrolling downwards sometimes presents the story and illustrations better, and (I've to admit) now I prefer both when reading it myself.
MOBILE
The A4 format (like any typical Comic Page) is not exactly ideal for mobile phones, while color tablets are perfectly fine.

Comments & Feedback
If you've any questions, just ask in the comments here, and I shall answer.
Feedback—after you've read it—is best posted to the Release Post on my DeviantArt, Pixiv, Twitter, or Reddit. There, it's a bit more interactive and a better place to collect your reviews, thanks, notes, and further story-questions for everyone!

A small comment, message, or email is always welcome about which part you liked most. I also answer any in-story questions gladly. Just post them to any 'Heavy Bondage II' post on my social media)! :)

ENJOY!
Purchase
Get this Bondage Art Book and 1 more for $23.02 USD
View bundle
In order to download this Bondage Art Book you must purchase it at or above the minimum price of $16.50 USD. You will get access to the following files:
HEAVY-BONDAGE Art Book 2 by kinkydept (2020).zip
416 MB